General information
The care landscape is changing. Elderly people often remain at home instead of going to a care home or nursing home. Also, after a hospital admission, people return home as soon as possible. They are now receiving more and more care, treatment and support in their home environment. This means that some of the tasks are shifting. Certain treatment and care tasks that are normally provided by the specialist and the hospital are now being handled by the general practitioner (GP) and the district nurse. They are playing an increasingly important role. It also means that informal caregivers are becoming more important. The municipality is also playing an increasingly greater role in support at home.
In addition, more collaborations and intermediate forms of care are being created. The government and health insurers are focusing on the shift from hospital care to primary care. The GP, medical specialist and other care professionals are working together more closely.
What is integrated care?
People with complex needs, who receive care and support often have to deal with different care providers, as well as informal caregivers and sometimes volunteers. All these people together form the 'care network' of the client. It is important that everyone in the care networks works well together to make sure that people experience care in a coordinated way. This is what we call 'integrated care'.
Consider, for example, a client's care network with an informal caregiver, GP, physiotherapist, district nurse, domestic help, medical specialist, the daytime activities and the pharmacist. The size and composition of the care network differ per person.
Why does the Inspectorate supervise integrated care?
Changes in the care landscape create new risks. For example, in terms of quality and safety of care. Or overburdening of informal caregivers. Caring for people in their home environment often involves vulnerable target groups. For example, they include elderly people with dementia. But also children who receive specialist medical care at home. Providing care in home environments can also involve additional risks. For example, due to the client's living environment. Or because of care relationships and the use of medicines.
It is important that everyone in the care network works well together. That way, the network can ensure that the client receives care in a coordinated way. This may seem self-evident, but it is not always the case. Someone in the care network must oversee the care the client receives. That person is responsible for coordinating the care network.
By supervising integrated care, the Health and Youth Care Inspectorate would like to:
improve the quality and safety of the care for people with complex needs, living in their home environment;
promote cooperation and cohesion in care networks;
improve the collaboration with the Wmo supervisors in municipalities.
What does supervision of integrated care in home environments entail?
We are adjusting our supervision to the changes in the care landscape. We therefore examine two key components:
The quality of care provided by individual care providers or organisations.
The collaboration in the client's care network.
When supervising integrated care, the we take the perspective of the client as the starting point. We usually do this at a municipal or regional level.
In recent years, the Inspectorate developed a inspection framework and a working method for supervision of integrated care in home environments. In addition, research institutes VUmc/Emgo and Nivel investigated how to supervise care networks in home environments . The results from these studies were published in September 2016.
We focus on four themes when supervising care networks, (see also the figure below):
client-centred care
integrated care
informal care
safety
We promote the improvement of collaboration in care networks.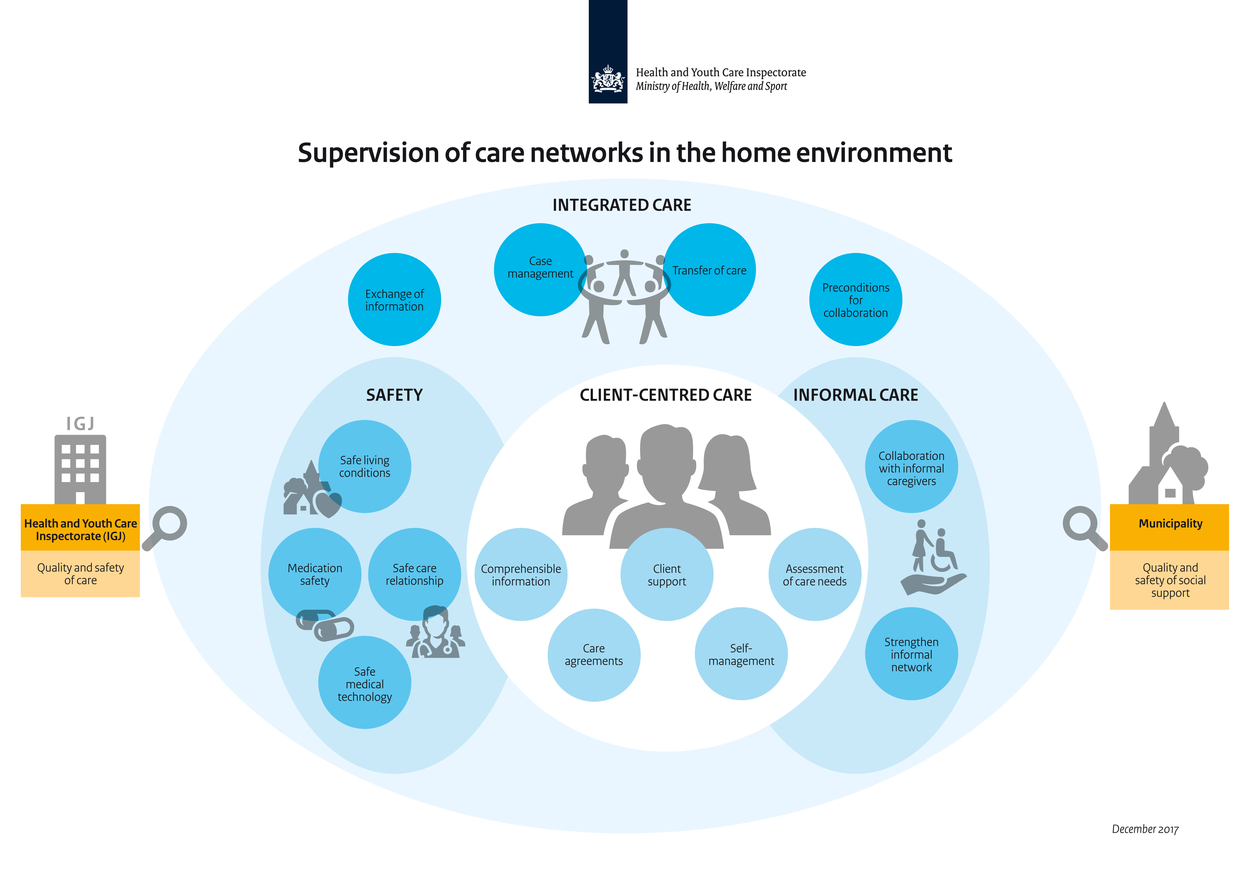 In 2018, the Inspectorate supervises integrated care in multiple ways:
Supervision of elderly care networks in home environments in two different areas in the Netherlands.
Supervision of specialist medical care at home for children.
Processing of incident reports involving integrated care.
Supervision of Ambulatory mental health care.
Collaboration with supervisors of social services.
In supervising integrated care, we collaborate with other supervisors of social services. The Health and Youth Care Inspectorate is responsible for supervising the quality of care. Local authorities are responsible for offering support to citizens. They are also responsible for supervising that support. When it involves clients who receive both care and support, local authorities and the Inspectorate cross paths.