Supervision of post-market surveillance
Post-market surveillance (PMS) is an umbrella term that describes a range of activities that a manufacturer must carry out in order to monitor the safety and performance of the medical device that has been placed on the market. The aim is for the manufacturer always to have up-to-date information on the safety and performance of a medical device to provide a basis for improving the product or its safe usage whenever necessary. The Health and Youth Care Inspectorate assesses to what extent manufacturers are carrying out PMS and whether their efforts are in compliance with the applicable rules.
A great deal of attention is being paid to post-market surveillance in Europe as well. The European legislation on medical devices (MDR) became applicable on 26 May 2021 and the European Regulation on in vitro diagnostic devices (IVDR) became applicable on 26 May 2022. These rules set out what manufacturers are obliged to do in order to monitor the quality of their device (PMS).
The Inspectorate and other supervisory authorities within the EU monitor and ensure that economic operators and devices comply with the statutory requirements for performance and safety. The Inspectorate checks whether manufacturers are in compliance with European and Dutch laws.
Requirements for manufacturer PMS system:
Manufacturers of medical devices are responsible for the continuous monitoring of the performance and safety of their device for the duration of its existence. The manufacturer will collect data to ensure that the device's performance and safety is in compliance with the statutory requirements and for improvement purposes, if this should be necessary. The manufacturer will record that data in a technical dossier.
The manufacturer is obliged to report the results of the PMS activities. These reports will include a Post-market clinical follow-up (PMCF) report (MDR), a Post-market Performance Follow-up (PMPF) report (IVDR) and a Periodic Summary Update Report (PSUR). Please see Figure 1.
Manufacturers can independently determine how to implement their post-market surveillance. The rules, however, do set out a number of obligations. How a manufacturer organises and implements its PMS will depend on the properties of the medical device.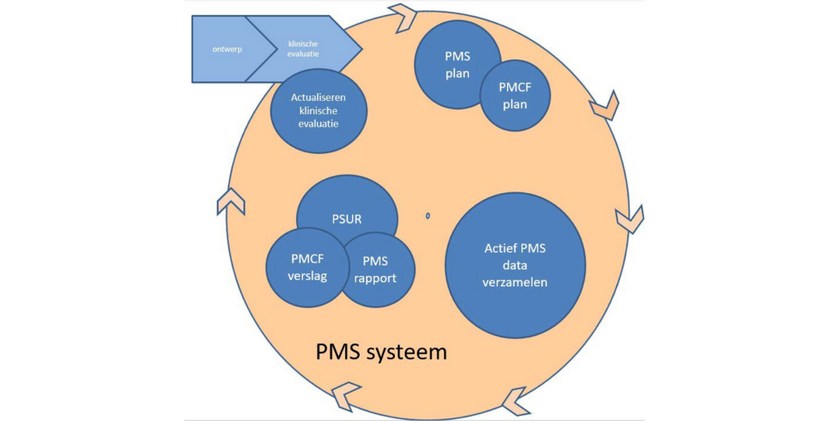 Manufacturers must use the PMS data: 
to verify whether the benefit/risk ratio has remained favourable
to monitor the design and the production process
for clinical evaluation purposes
to assess when modifications or corrective actions need to be made
to assess what it can do to improve the usability, performance and safety of the device
to contribute to the post-market surveillance of other devices, if possible.